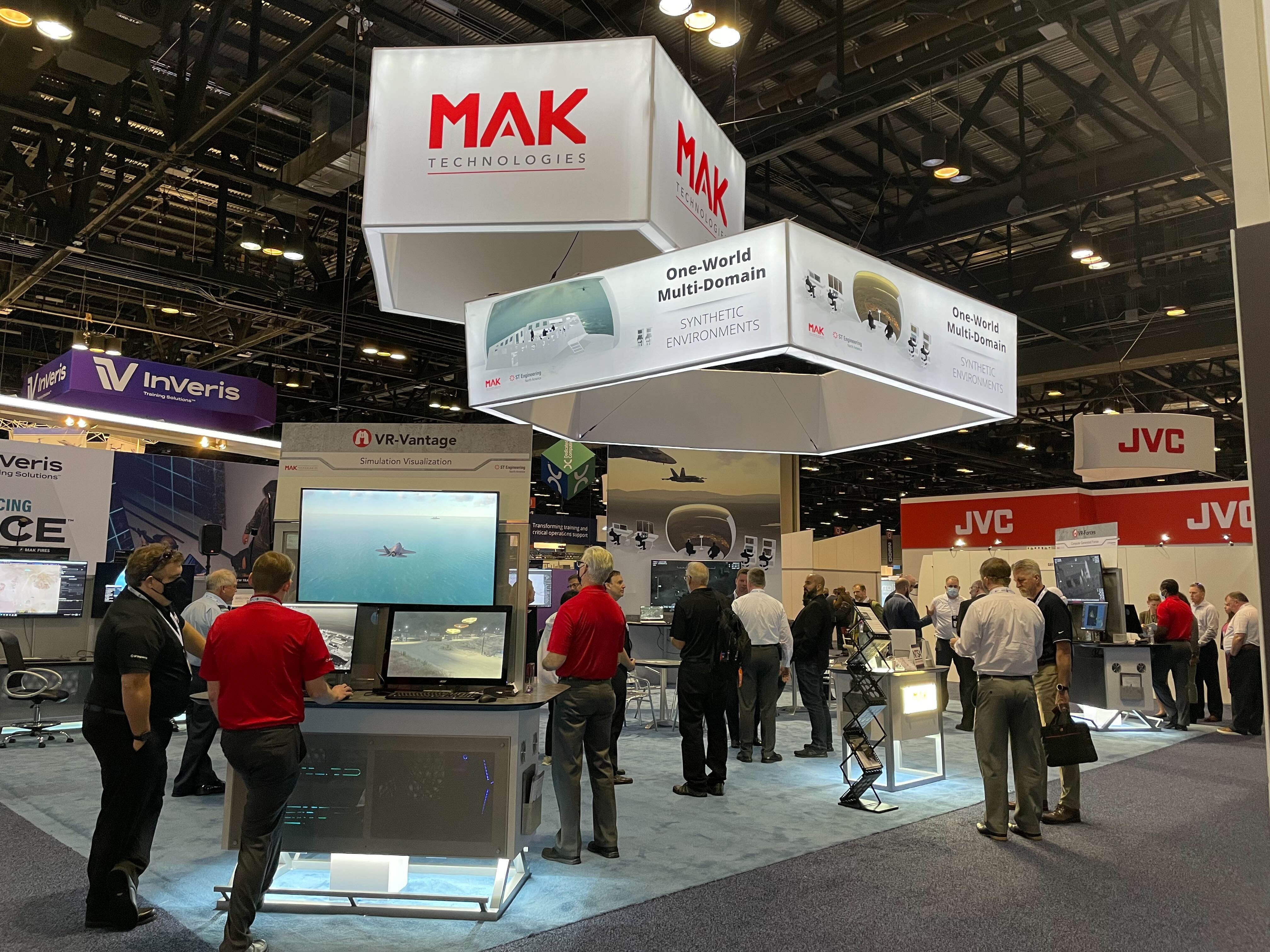 The countdown to I/ITSEC 2022 is on!
MAK is excited and ready to showcase our MAK ONE suite of simulation software in-person at I/ITSEC 2022! When you stop by our booth (#1413), you'll experience a whole-world synthetic environment for modeling, simulation and training in any domain as well as in multi-domain operations, including training solutions built with MAK ONE. Our team can't wait to connect with you face-to-face!
(Curious about MAK ONE? MAK ONE provides the simulation framework for developers to build training and experimentation systems, and is comprised of simulation applications VR-Forces, VR-Vantage, VR-Engage, as well as infrastructure and LVC interoperability products VR-Link, MAK RTI, MAK Data Logger, and VR-Exchange. These are the COTS products that our customers and partners have known and loved for more than 30 years!)
At the show, we'll demonstrate how MAK ONE can support the range of fidelities from single high-fidelity vehicle/subsystem models to large-scale simulations with large numbers of entities. Booth visitors will see the scale and breadth of MAK ONE, from demos that show managing the airspace to addressing a regional threat, to simulating a battalion conducting a ground assault.
Booth visitors will also experience MAK Training Solutions built with MAK ONE, which are tailored, ready-to-use training systems that support customer-defined training and experimentation requirements. One specific training solution that we'll showcase on the show floor is MAK FIRES, our realistic and portable MAK ONE-based training system that delivers effective Call for Fire training.
Here are some special awards and events we've got lined up throughout the week!
MAK Technologies Founder, Warren Katz, Named 2022 I/ITSEC Fellow
Warren Katz, MAK's founder, has been named the 2022 I/ITSEC Fellow and recognized for his significant influence in shaping current modeling & simulation technology. Warren will present his I/ITSEC Fellows paper and share his experience in the training and acquisition domains on Monday, November 28, 4.00pm to 5.30pm, Room W 300.
Exhibitor Networking Event: Celebrate with the MAK Geeks and SMEs!
I/ITSEC attendees can plan to join MAK at booth #1413 at any point during the show or join MAK during the Exhibitor Networking event on Tuesday, November 29 from 4:30-6:30pm. During the Exhibitor Networking Event, MAK will serve New England Clam Chowder and Sam Adams beer on behalf of the team's elite New England "geeks", and gator fritters and a local Orlando brew on behalf of MAK's Orlando-based Subject Matter Experts (SMEs). Join us for a wicked good time, yall!
Dogs for Vets Fundraiser – Raffle drawing on 12/1!
During I/ITSEC 2022, MAK will continue its "Dogs For Vets" fundraiser to raise money for the Guardian Angels Medical Service Dogs non-profit, which provides highly trained service dogs to veterans suffering from PTSD. Anyone who donates at least $5 from Monday, 11/28 – Thursday, 12/1 at 12:00pm will automatically be entered to win a AirPods and the cutest plush dog! Entry is $5 – the more you donate, the higher your chance to win! The winner will be announced on 12/1 at 1:00pm. (Winner does not need to be present. 100% of all donations will go to MAK's Dogs for Vets fundraiser, benefitting Guardian Angels Medical Service Dogs nonprofit.) MAK's goal over the next two years is to raise $50,000 for two dogs for two veterans in need. Please donate at MAK booth #1413 via QR code, or anytime at www.mak.com/DogsForVets.