MAK FIRES
Realistic and portable training for Forward Observers
Delivering Effective Call For Fire (CFF) Training at the Point of Need (PoN).
MAK FIRES is a portable training system that delivers effective Call for Fire (CFF) training — wherever you are. Based on Call for Fires fundamentals, MAK FIRES is designed specifically to develop and reinforce skills for Forward Observers (FO). FOs can practice individually by speaking to the Simulated FDC (Fire Direction Center), or pair up with an instructor at their home station, or participate in instructor-led classroom training at their local armory. US and international versions of MAK FIRES are available.
Full Forward Observer Functionality

MAK FIRES provides everything needed to train FO fundamentals to include support for all types of Firing Missions with various Fire Sheafs using either polar, grid, or shift from a known point. MAK FIRES also supports splitting the battery, allowing the simulation of coordinated illumination and mixed HE & Smoke missions.

High Fidelity Environment

MAK FIRES provides a doctrinally and physically correct environment for FO training to include accurate representation of weather conditions including wind speed and direction, sound effects, tactical graphics, voice communications, and simulated equipment. MAK FIRES multi-domain environment provides all the entities needed to perform various Call For Fire (CFF) tasks including long range precision fires and CAS missions. MAK FIRES built-in Artificial Intelligence (AI) engine provides complex, coordinated enemy behaviors to enhance training realism.

Easy Execution of Complex Training Scenarios

MAK FIRES custom interface was designed to allow anyone to easily create and execute realistic scenarios including the ability to change degree of visibility, location of firing units, and weather conditions during execution. The MAK FIRES drag and drop interface enables users to easily position firing units and targets in either 2D or full 3D mode.

Unique Classroom Configuration

MAK FIRES engages all students in the classroom by requiring the students to participate in each mission by providing individual input into an easy-to-use tablet-based application. Each student's mission is computed and evaluated by MAK FIRES. Students receive feedback as to the accuracy of their initial target location, their submitted Observer-Target (OT) direction, and the accuracy of each correction during the adjustment phase through Fire For Effect (FFE).

Portable for Training at the Point of Need (PoN)

MAK FIRES configurations come with military grade portable cases for transportability. No internet connection is required so training can always be delivered when you need it, where you need it.
Individual Student Mode

MAK FIRES can be run on a single laptop where the student interacts with an AI voice activated simulated Fire Direction Center (FDC). Individual Student Mode is designed to offer additional practice to students who either need a quick refresher or require additional time to learn CFF fundamentals.

Latest Technology

MAK FIRES is a modular system incorporating the latest Mixed Reality (XR) technology in some configurations, ensuring a high-fidelity, dynamic, and fully interactive future-proof training system. This provides a long useful life and the ability to support emerging tactics, techniques, and procedures.

Turn-Key Solution

MAK FIRES is provided as a turn-key solution complete with everything needed for Forward Observer Training to include hardware, software, terrains, scenarios designed to for each CFF and CAS mission, on-site installation, training.

World Recognized Responsive Customer Service and Support

MAK has been delivering military simulation and training systems around the world for over 25 years. MAK support starts before delivery and continues for as long as a customer is under Maintenance. The MAK Support Portal is a web-based customer support hub where customers can request and track their support questions. Responses may be sent via email, during web-sessions, or through an on-site visit as appropriate.

Fully Customizable Synthetic Environment Platform

MAK FIRES is easily customized to match the End Users tactical environment to include local terrain, integration with command post applications, support for local doctrine, representation of relevant targets, integration with emulated equipment and scenarios designed to meet specific training objectives.
See What's in the Box...
MAK FIRES is packaged in a padded and hardened case for easy portability. It's carryable by one soldier.
MAK FIRES Deployable Instructor & Student System
Part Number/Code: MAKFIRES-DEP
Students train one-on-one with an instructor or practice independently with the Simulated Fire Direction Center (FDC). MAK FIRES with speech recognition technology lets FOs get in their 'reps and sets' at the armory, at home, or on the go.
1 Instructor laptop computer
1 Student laptop computer
1 handset for Student station
1 headset for Instructor station
6 training scenarios
1 terrain (National Training Center (NTC))
1 portable case – to easily deploy at the PoN Train the Trainer course
1 Year hardware warranty
1 Year virtual support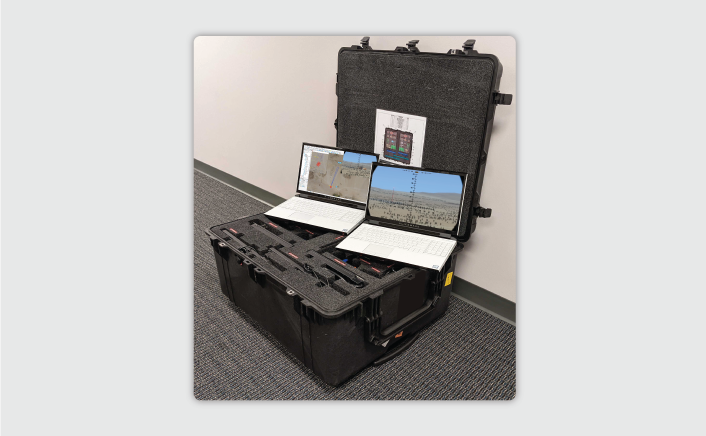 MAK FIRES Deployable Instructor & Mixed Reality Student System
Part Number/Code: MAKFIRES-DEP-MR
Students train one-on-one with an instructor or practice independently with the voice-activated simulated FDC — with the option to use Mixed Reality (MR) head-mounted display for immersion into the simulated environment while maintaining real-world view of hands, accessories, and maps.
Includes MAKFIRES-DEP plus:
Student laptop is upgraded to a powerful desktop computer with monitor
1 Varjo XR-3 head-mounted mixed reality display for fully immersive training
2nd portable case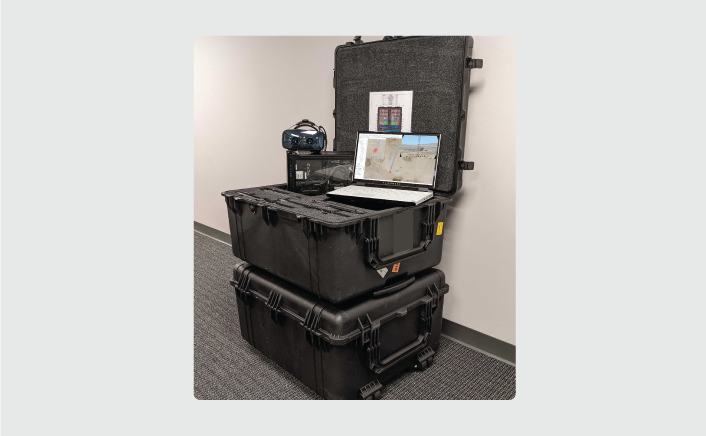 MAK FIRES is available for purchase through:


US & International Versions of MAK Training Solutions are available.
| | |
| --- | --- |
| MAKFIRES-DEP | MAK Fires Deployable Instructor/ Student |
| MAKFIRES-DEP-MR | MAK Fires Deployable Instructor/ Student with Mixed Reality |
| MAKFIRES-CL-8 | MAK FIRES Classroom 8 Students |
| MAKFIRES-CL-12 | MAK FIRES Classroom 12 Students |
| MAKFIRES-CL-16 | MAK FIRES Classroom 16 Students |
| MAKFIRES-STD | MAK FIRES Student Station |
| MAK FIRES-TRNG | On-Site MAK-FIRES Training |