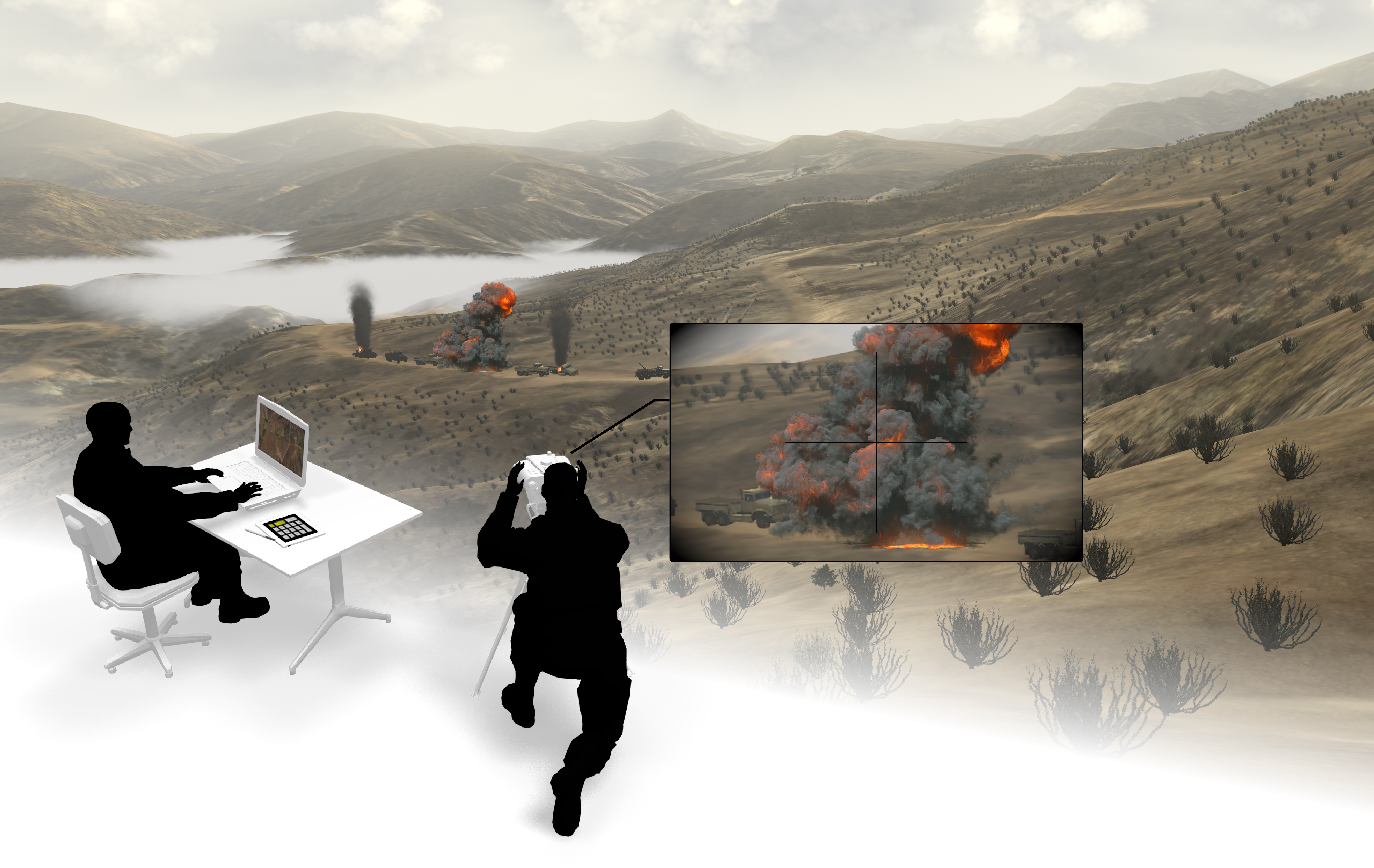 MAK FIRES: Just Released!
Forward Observer Training — when you need it, where you need it.
MAK FIRES 1.0 has arrived! A realistic and portable observed fire training system that delivers effective Call for Fire training at the Point of Need, MAK FIRES is designed specifically to develop and reinforce skills for Forward Observers (FO).
MAK FIRES is available in multiple deployment configurations, including:
Instructor & Student: The MAK FIRES Instructor & Student System enables students to make calls for fire while the instructor plays the role of a Fire Direction Center (FDC). Students can also practice independently through MAK FIRES' voice activated simulated FDC, which uses speech recognition technology for practice without an instructor's presence.
Instructor & Mixed Reality Student: Students train one-on-one with an instructor or practice independently with the voice activated simulated FDC — with the option to use a Mixed Reality head-mounted display for immersion into the simulated environment while maintaining real-world view of their hands, a map, and accessories.
Classroom: Three configurations are available for instructor-led training of students in a classroom environment. Each student is provided a tablet to input their targeting information (e.g., target location, observer-target direction, etc.) and receive feedback so that everyone in the class is engaged and learning.
MAK FIRES helps soldiers "master their craft." MAK FIRES 1.0 supports all Artillery Fire Mission Tasks in Artillery Tables 4 and 5 for Forward Observers, with capabilities that support doctrinally correct FO training, including:
Conduct Adjust Fire and Fire for Effect Missions using the Grid, Polar, or Shift from a Known Point methods of target location
Conduct an Immediate Suppression Mission
Conduct a Quick Smoke Mission
Conduct and adjust Final Protective Fire Missions
Conduct a Coordinated Illumination Fire Mission using either visible light or IR illumination
Request Fires on an Irregularly Shaped Target
Conduct a Precision Registration
Eager to get your hands on MAK FIRES? It can be purchased directly from MAK, MAK's worldwide network of distributors including ST Engineering Antycip, through CHESS (www.chess.army.mil), our partners at ADS (https://www.adsinc.com) or Darley Defense (www.darleydefense.com), or through FMS (Foreign Military Sales). For more details, check out www.mak.com/mak-fires, or download the MAK FIRES brochure. U.S. and international versions of MAK FIRES are available.